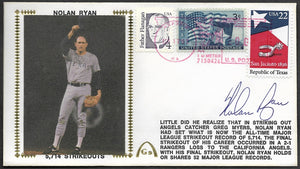 Nolan Ryan Autographed 5,714 Career Strikeouts Gateway Stamp Commemorative Cachet Envelope
Player(s):  Nolan Ryan
Event:  The last of Ryan's 5,714 Strikeouts – Ryan started one more game in Seattle, but did not record an out before exiting the game with a torn UCL.
Meter Cancellation: September 17, 1993 in Anaheim, CA 
Bio: Houston Astros, New York Mets, California Angels, and Texas Rangers
Retail Price: $110

***** Need some Forever Stamps for personal or business use?  Click here to get 8 Forever Stamps for $4.80 (60 cents each) and help us recover some of what we spend to accumulate stamps for future projects. 
Free shipping with the purchase of any Gateway envelope.  It is a break-even deal on both sides.
------------------------
The number of envelopes available is the approximate number currently available at the Florida location where shipping is expected within 1 to 5 business days.