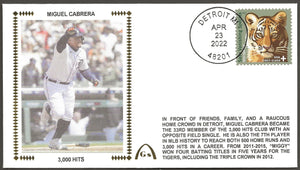 Miguel Cabrera UN-Signed 3,000 Hits Gateway Stamp Cachet Envelope - Detroit Tigers
LIMITED-TIME SALE!  We are still sorting out the Soft Commitment and Refundable Deposit orders.  Only a handful of options are being made available until the Pre-Holiday Newsletter in mid-November, when we may have more stamp options to offer.
Player(s):  Miguel Cabrera

Event:  3,000 Hits
Postmark:  April 23, 2022 in Detroit, MI
Bio:  Florida Marlins & Detroit Tigers
Retail Price:  $9.95 to $11.95
***** Need some Forever Stamps for personal or business use?  Click here to get 8 Forever Stamps for $4.80 (60 cents each) and help us recover some of what we spend to accumulate stamps for future projects. 
Free shipping with the purchase of any Gateway envelope.  It is a break-even deal on both sides.
------------------------
The number of envelopes available is the approximate number currently available at the Florida location where shipping is expected within 1 to 5 business days.