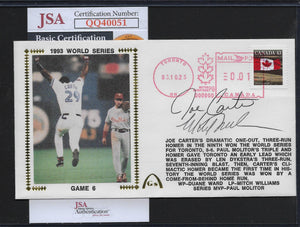 Joe Carter & Mitch Williams JSA Autographs 1993 World Series Game 6 Gateway Stamp Commemorative Cachet Envelope
Player(s):  Joe Carter & Mitch Williams
Event:  1993 World Series Game 6 - Toronto Blue Jays vs. Philadelphia Phillies
Postmark:  October 23, 1993 in Toronto, Ontario Canada
Bio:  Toronto Blue Jays, Chicago Cubs, Cleveland Indians, Philadelphia Phillies, San Francisco Giants, San Diego Padres, Texas Rangers, Houston Astros, California Angels, and Kansas City Royals
Retail Price: $120

***** Need some Forever Stamps for personal or business use?  Click Here to get 8 Forever Stamps for $4.99 (63 cents each - now cost 66 cents at the USPS) and help us recover some of what we spend to accumulate stamps for future projects.
------------------------
The number of envelopes available is the approximate number currently available at the Florida location where shipping is expected within 1 to 5 business days.