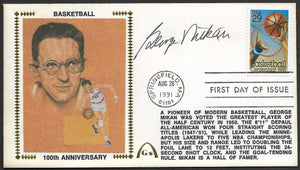 George Mikan Autographed Basketball 100 Years First Day Cover Gateway Stamp Envelope w/ FDI Postmark - Minneapolis Lakers
Only 1 envelope is available.  We have several George Mikan autographs, but we are out of the silk art pieces.  Any future reproduction of the silk will likely result in color differences and variations.
Player(s):  George Mikan
Event:  100th Anniversary of Basketball USPS Postage Stamp First Day of Issue
Postmark:  August 28, 1991 in Springfield, MA
Bio:  Minneapolis Lakers
Last known Retail Price:  $170 & listed as Sold Out
Sale Price:  $149
***** Need some Forever Stamps for personal or business use?  Click here to get 8 Forever Stamps for $4.80 (60 cents each) and help us recover some of what we spend to accumulate stamps for future projects. 
Free shipping with the purchase of any Gateway envelope.  It is a break-even deal on both sides.
------------------------
The number of envelopes available is the approximate number currently available at the Florida location where shipping is expected within 1 to 5 business days.