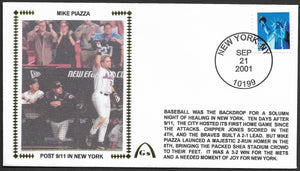 Mike Piazza Un-Autographed Post 9/11 In New York Gateway Stamp Envelope - New York Mets
NEW offering on GatewayStamp.com! 
Player(s):  Mike Piazza - unautographed
Event:  1st Game In New York After 9/11
Postmark:  September 21, 2001 in New York, NY
Bio:  New York Mets, Los Angeles Dodgers, San Diego Padres, Oakland A's, and Florida Marlins
Retail Price: $29.95 - Only 12-15 are currently available unsigned unless more postmarked envelopes are found.
------------------------
The number of envelopes available to sell is not necessarily the number created.  It is merely the approximate number currently available at the Florida location where shipping is expected within 1 to 5 business days.