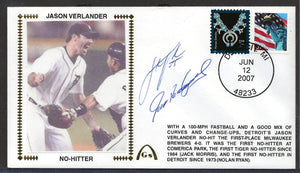 Justin Verlander & Ivan Rodriguez Autographed 1st No Hitter Gateway Stamp Envelope - Detroit Tigers
Note:  Every envelope for this event is incorrectly titled as "Jason Verlander"
Player(s):  Justin Verlander & Ivan Rodriguez
Event:   First No Hitter vs. the Milwaukee Brewers
Postmark:  June 12, 2007 in Detroit, MI
Bio:  Detroit Tigers, Houston Astros, Texas Rangers, Washington Nationals, New York Yankees, and Florida Marlins
Retail Price: $299.95
***** Need some Forever Stamps for personal or business use?  Click here to get 8 Forever Stamps for $4.80 (60 cents each) and help us recover some of what we spend to accumulate stamps for future projects.
------------------------
The number of envelopes available is the approximate number currently available at the Florida location where shipping is expected within 1 to 5 business days.