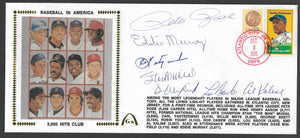 3,000 Hits Club Signed by Carl Yastrzemski, Stan Musial, Pete Rose, Lou Brock, Al Kaline, Eddie Murray, and Dave Winfield Gateway Stamp Envelope
Player(s):  Al Kaline, Dave Winfield, Robin Yount, Eddie Murray, Lou Brock, Pete Rose & Stan Musial
Event:  3,000 Hits Club Gathering
Postmark:  December 8, 1995 in Atlantic City, NJ
Bio:  St Louis Cardinals, Detroit Tigers, New York Yankees, San Diego Padres, California Angels, Minnesota Twins, Toronto Blue Jays, Cleveland Indians, Baltimore Orioles, Cincinnati Reds, Chicago Cubs, Philadelphia Phillies & Montreal Expos
This item is a 3,000 Hits Gateway Stamp Commemorative that has been personally autographed by Al Kaline, Carl Yastrzemski, Dave Winfield, Robin Yount, Eddie Murray, Lou Brock, and Stan Musial.
Questions are welcome.
Gateway Insider Price:  $595 
Retail Price:  $650 - Yastrzemski has only signed a handful of 3,000 Hits Club envelopes for Gateway.
------------------------
The number of envelopes available to sell is not necessarily the number created.  It is merely the approximate number currently available at the Florida location where shipping is expected within 1 to 5 business days.